Key Takeaways
Bitcoin and Ethereum have been stagnant, showing no signs for the direction of their trends.
As the Bollinger bands squeeze on the daily chart, a period of high volatility looks imminent.
The Fibonacci retracement indicator reveals what BTC and ETH need to do to resume their respective uptrends.
The top two cryptocurrencies by market cap, Bitcoin and Ethereum, continue to consolidate while other lower cap cryptocurrencies rally. Although interest is shifting, several metrics show that BTC and ETH are primed for a major price movement. 
Bitcoin and Ethereum Poised for Volatility
Bitcoin and Ethereum have been stagnant without providing a clear indication of where they are heading next. 
Meanwhile, lower cap cryptocurrencies like Solana, Terra, and Avalanche have been soaring. Many crypto assets have entered price discovery mode as they make new all-time highs. Such notable price action has generated a sense of "greed" among investors, leading some to suggest that a new "alt season" has begun. 
Behavior analytics platform Santiment recorded one of the highest levels of pessimism around Bitcoin and Ethereum as lower cap assets steal the spotlight. Such a negative social sentiment is a direct result of the lackluster price action seen recently. Still, the poor social perception could provide a good opportunity for traders to place a value bet on BTC and ETH.
As Bitcoin and Ethereum consolidate within a narrow range, traders must be patient to avoid getting caught on the wrong side of the trend. Waiting for a prime opportunity to enter is especially important now that both assets seem to be on the cusp of a significant price movement.
Bitcoin's daily chart shows that a candlestick close outside the $51,000 to $47,000 price range would likely determine where it is heading next. 
A spike in buy orders that pushes BTC beyond the overhead resistance could result in an upswing toward $57,000 or even an all-time high of $65,000. On the other hand, losing the $47,000 as support could result in a sell-off that sends the leading cryptocurrency to $42,500 or $37,300. 
Ethereum has also shown ambiguity, but the contraction of the Bollinger bands suggests that a spike in volatility is underway. 
A decisive move above the $3,360 resistance level might be all ETH needs to rise to $3,750 or retest previous all-time highs. But if sell orders pile up, ETH may slice through the $3,000 support level and fall toward $2,700 or $2,300.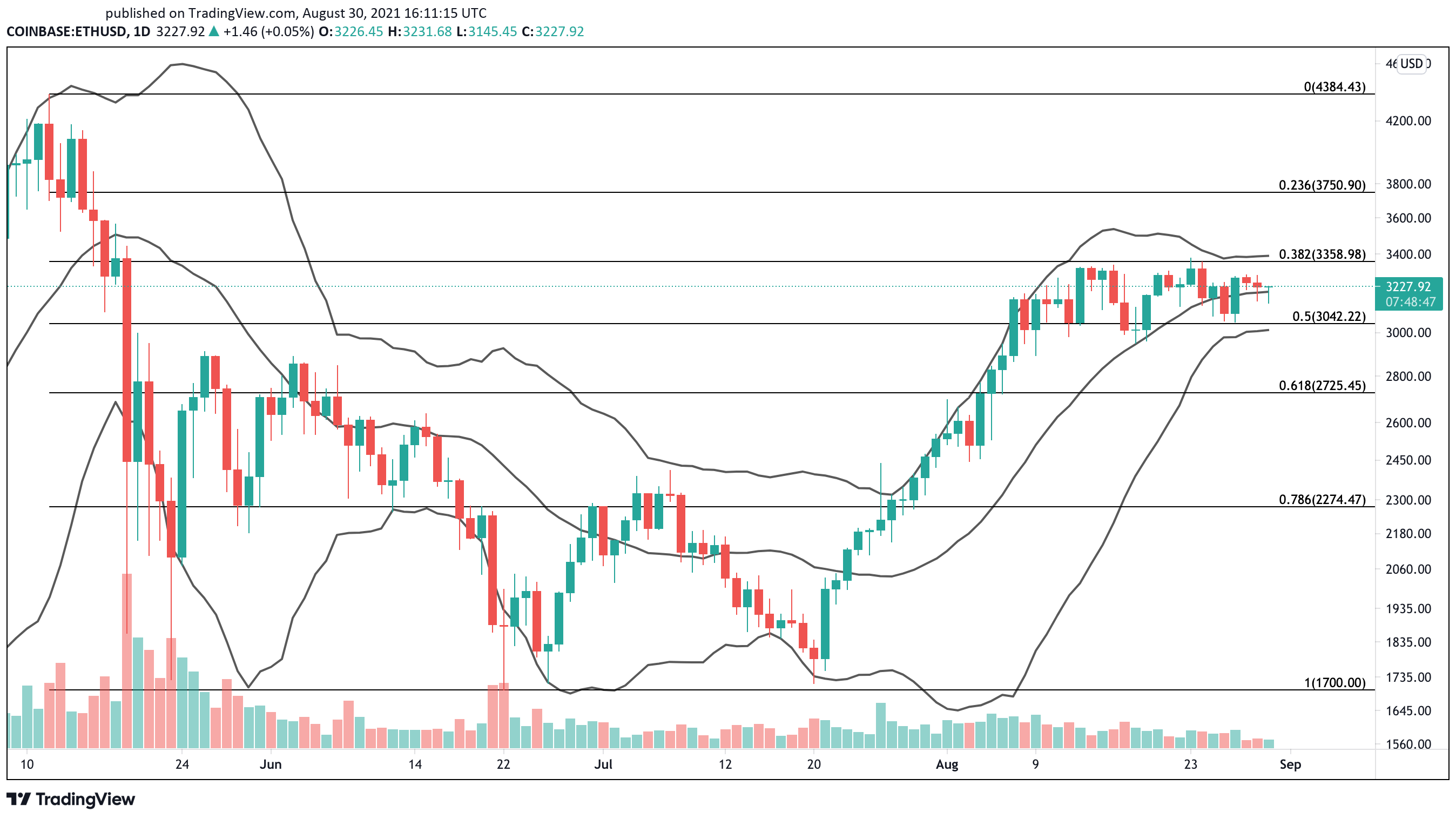 While cryptocurrency enthusiasts wait for Bitcoin and Ethereum to break through resistance or support, some of the most prominent figures in the industry remain optimistic. On-chain analyst Will Clemente maintains that the "strongest on-chain accumulation in the history of Bitcoin" is currently taking place. Likewise, economist Efe Bulduk believes that Ethereum is primed for a supply shock since its supply on exchanges is "melting like an athlete running a marathon on a hot summer day."
Now, it appears to be just a matter of time before Bitcoin and Ethereum make a big move.