On-chain data shows the Bitcoin leverage ratio has gone down recently as market de-risks amid macro uncertainties.
Bitcoin Leverage Ratio Sharply Falls Down Over The Past Week
According to the latest weekly report from Glassnode, the BTC futures open interest leverage ratio has decreased in the last week as investors de-risk their holdings.
The "futures open interest leverage ratio" is an indicator that's defined as the ratio between the market open contract value and the total market cap of Bitcoin.
In simpler terms, what this metric tells us is the degree of leverage that an average user is currently making use of in the BTC market.
When the value of the ratio increases, it means users are increasing their leverage as they take on more risk. High values of the indicator may imply that the Bitcoin market is overleveraged at the moment. And thus, it may be more prone to a liquidation squeeze event.
On the other hand, low values of the metric mean investors are keeping their positions at low risk right now. The market is generally more stable during these periods as probability of deleveraging events decreases.
Related Reading | JPMorgan Puts Bitcoin At $150,000 In The Long-Term, But What About Its 'Fair Value'?
Now, here is a chart that shows the trend in the Bitcoin futures open interest leverage ratio over the past year:
Looks like the value of the indicator has declined recently | Source: The Glassnode Week Onchain - Week 7, 2022
As you can see in the above graph, the Bitcoin leverage ratio seems to have sharply fallen off over the last seven days.
However, unlike many other deleveraging events over the course of 2021, this recent decrease wasn't marked by a liquidation squeeze.
Related Reading | Bitcoin Active Addresses Surpass 1.02M Three Days In A Row, What Happened Last Time
The main push behind this trend looks to have been investors opting to de-risk their holdings by closing out their futures positions.
The report notes that futures users may be showing this behavior in response to the many macro uncertainties currently looming over the Bitcoin market.
As the current values of the indicator are very close to a range that has usually meant a more stable market, the price of the crypto may not show much volatility in the coming days.
BTC Price
At the time of writing, Bitcoin's price floats around $44.2k, up 2% in the last seven days. Over the past month, the crypto has gained 3% in value.
The below chart shows the trend in the price of BTC over the last five days.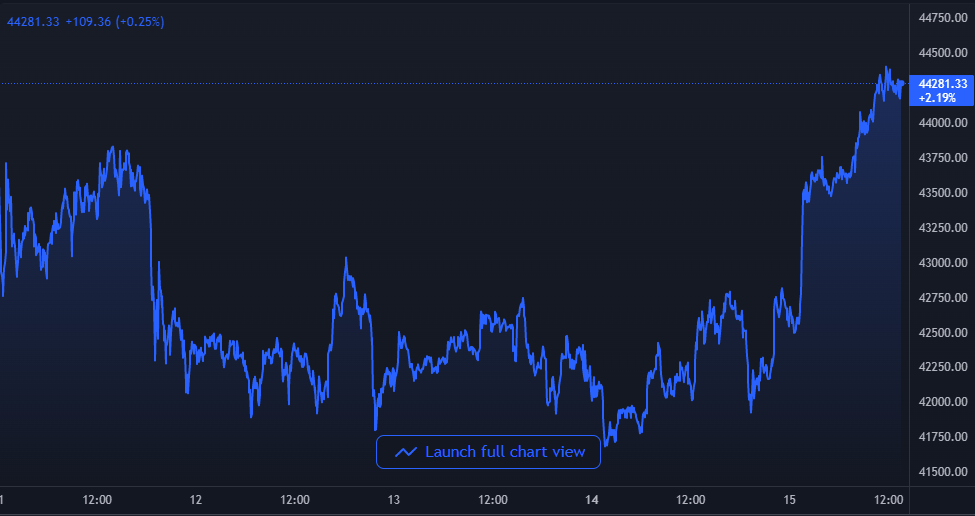 BTC's price seems to have shown some sharp upwards momentum over the last twenty-four hours | Source: BTCUSD on TradingView
Featured image from Unsplash.com, charts from TradingView.com, Glassnode.com