A platform called SmartContracts Tools has a Token Generator dApp to create a new Ethereum or BNB crypto token in under a minute.
The dApp lives on the Ethereum, BSC, and Polygon networks and uses unique smart contracts to help users build their own tokens.
How to create a new token using SmartContracts
The platform requires you to connect a MetaMask wallet with enough ETH, MATIC, or BNB to pay for a contract deployment to launch a token. The token can have optional features like a supply cap, deflationary properties, and the ability to be burned or minted. 
The user must specify the token type and the blockchain it will be deployed on. They can choose the ERC20 token type for Ethereum and Polygon or BEP20 for Binance Smart Chain. 
If the user selects Ethereum, they can deploy the token on the mainnet, Goerli, or Sepolia testnets.

The user must also enter the desired name and symbol of the token. 

They can choose the token's initial supply and whether this will be a fixed, unlimited, or capped supply. Additionally, they can choose who will have access to the token. If a user has ownable access, they can start and end the token's minting process or set its burn rate if applicable. A token can also have a specific role of Admin or Minter that its owner can use.
After all the fields are filled in correctly, you can click "Create Token."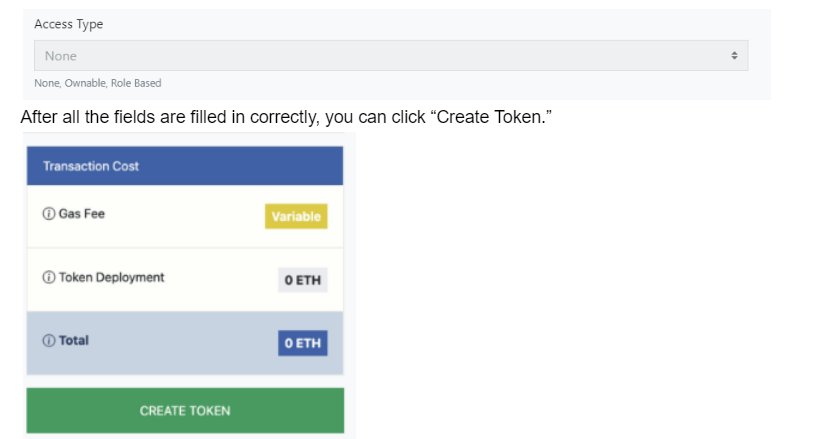 After this, you will have created a usable ERC20 token whose smart contract code has been verified.
At press time, the Token Generator app generated over 30,000 custom tokens.
Tools like Token Generator make it easy for scammers to create new tokens and register them on decentralized exchanges like Uniswap.
Decentralized exchanges allow anyone to spin up a new market smart contract that can hold funds and control how they are used. The DEX automates the market for them.
The user can deposit a newly-generated token with a well-known token like ETH into a particular type of contract known as a constant product AMM. The constant product AMM ensures that the product of the number of tokens in a liquidity pool is constant. If a user deposits 10 NEWTOKEN and 10 ETH, the constant product is 100. If someone wants to buy 5 NEWTOKEN, then there are 5 NEWTOKENs remaining in the pool. To maintain the constant product, the AMM will now quote a buyer 2 ETH per NEWTOKEN. As more people buy NEWTOKEN, it gets more expensive. When the price is high enough, the scammer will withdraw NEWTOKEN from the liquidity pool and disappear.
Famous scams in recent history include the Animoon scam, a play-to-earn game that cost investors $6.3 million. It revolved around investors customizing Pokemon-like non-fungible tokens. The company had promised to pay dividends to NFT holders but disappeared with $6.3 million. The founders used Jake Paul, a known scammer, to promote the project. Azuki NFT founder Zagabond was accused of scams after profiting from three failed NFT projects.
How to be scam-proof
Many scammers exploit an investor's fear of missing out. They usually use social media feeds and marketing bots to employ a dizzying marketing program for the new token. They will also impersonate influential people in the crypto space to improve their pitch. Such people include famous bitcoin bull Micahel Saylor, Ethereum co-founder Vitalik Buterin, and Ripple CEO Brad Garlinghouse. 
But it is always best to thoroughly research a token, its founders, history, and whitepaper before investing. The existence of a project roadmap is a good indicator that the project will be around for a while. If you find the new token on a centralized exchanged, it is a good sign. These exchanges usually thoroughly review any token or coin before they list it. Also, any legitimate token or coin usually has a significant amount staked in the network.
Companies like Rug Pull Finder and RugDoc also help to weed out fraudulent crypto schemes.
For Be[In]Crypto's latest Bitcoin (BTC) analysis, click here
Disclaimer
All the information contained on our website is published in good faith and for general information purposes only. Any action the reader takes upon the information found on our website is strictly at their own risk.