Chinese ASIC-maker Canaan Creative announced a 74.8% drop in gross profit for the third quarter as Bitcoin prices cause miners to operate at a loss.
The company racked up a profit of approximately $32.9 million in Q3 2022, compared with Q2's $131.63 million.
Canaan streamlines expenses to survive bear market
Canaan provides high-performance computer equipment needed for Bitcoin mining, and recently launched a new series of machines, called AvalonMade13. 
Mining is the process used to secure a decentralized proof-of-work network like the Bitcoin blockchain. Special blockchain node operators called miners earn Bitcoin as a reward for expending the computing power needed to secure the network. The more computers on the Bitcoin network, the more computing power (measured in Terahashes/second) is required to be a successful miner.
In Q3, Canaan sold 3.5 million Terahashes/s compared to 5.5 million for Q2 2022 and 6.7 million for Q3 2021.
Additionally, the company's gross profit is also down 14% compared to Q3 2021, as it feels the pinch of a steady drop in demand. Furthermore, companies that buy Canaan's equipment are facing shrinking revenues, forcing the electronics provider to reduce the selling price of its machines.
"We experienced unprecedented pressure due to the weakened market demand in the third quarter, resulting in a decline in our topline performance," said James Jin Cheng, Canaan's Chief Financial Officer. 
Fortunately, the company had secured sales through contacts it signed in previous quarters, and its topline performance fell within expectations. 
Still, it expects bitcoin market conditions to worsen in the coming quarters. Accordingly, the company will now focus on cutting expenses to maintain cash flow for its manufacturing operations.
Miners struggle with falling revenues
The Bitcoin consensus algorithm rewards miners 6.25 BTC and transaction fees for successfully validating a block of transactions to add to the network. Therefore, miners' profitability depends on the price of Bitcoin and on securing cheap electricity to run ASIC computers.
Large mining companies leverage their scale to maximize profit amid a bear market.
But, according to Bitcoin trader and analyst Doctor Profit, even those companies may capitulate soon.
Core Scientific, a major player in the mining industry, recently filed with the U.S. Securities and Exchange Commission, saying it would be unable to repay its debt obligations at the end of Oct. 2022 and Nov. 2022.
It cited the Bitcoin price and rising energy costs as the reasons for its inability to pay. It is looking to combat the current bear market by raising capital and reorganizing its books. Also, it recently took bankrupt lender Celsius to task for failing to pay for the rising energy costs of operating Celsius mining machines. Core operates Celsius mining machines according to a contractual agreement to see Celsius receive any revenue from mining.
According to a report by Compass Mining, Core Scientific competitor Argo Blockchain mined 204 Bitcoin in Oct. 2022 but needs to make more revenue to service its debt.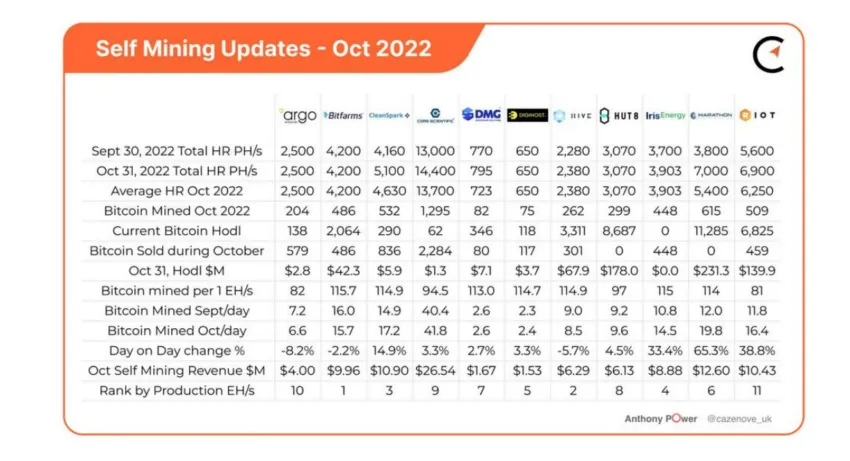 Argo also sold 579 Bitcoin in Oct. 2022, bringing its total Bitcoin holdings to 138 BTC. According to Compass Mining, this stash of Bitcoin, together with any Bitcoin mined in Nov. 2022, will still make the company unable to cover operational costs.
Headwinds to continue for the foreseeable future
Additionally, miners face an uncertain macroeconomic future. Interest rate hikes from the Federal Reserve continue to weigh on investor sentiment.
Bitcoin critic Peter Schiff has cautioned against hoping the Fed will taper its interest rate hikes soon.
Political headwinds against mining are likely to intensify, with the Democrats recently winning control of the U.S. Senate. While the makeup of the House of Representatives still hangs in the balance, a Democrat win would simplify the passage of crypto legislation proposed by the White House. This legislation could incorporate a recent report criticizing the environmental impacts of mining.
Mining companies will likely require fiscal and political prudence to survive the bear market cycle. 
For Be[In]Crypto's latest Bitcoin (BTC) analysis, click here.
Disclaimer
All the information contained on our website is published in good faith and for general information purposes only. Any action the reader takes upon the information found on our website is strictly at their own risk.