Crypto investment literacy remains a top priority as the cryptocurrency market continues to mature. Many investors at present look at only a few signs before blindly putting in their money. This can lead to permanent damage to their portfolios and livelihoods.
Among the many life skills essential to sustenance, financial literacy is an important one. Despite its growth in adoption, the crypto landscape is full of fear, uncertainty, and doubt, with disinformation.
In 2022, CryptoLiteracy.org, an industry initiative promoting broad consumer education of digital currencies, conducted a crypto-literacy quiz for 1,000 crypto-aware respondents across the U.S., Brazil, and Mexico. 91% failed the preliminary test. This is a worrying statistic, signaling that people are in this market for pure speculation. 
This suggests that many of these investors are either in for the short term or that social media hype is driving much of the market. This also hints at potential future volatility since investors need to understand the true value proposition or cryptocurrencies before jumping in. 
Understanding the Crypto Investing Hype
There is substantial hype around Bitcoin, Ethereum, and the crypto space as a whole, and promising entrepreneurs are building in this sector to create solutions and products. However, bad actors are trying to benefit from this hype, creating questionable coins, NFTs, and other schemes. 
There is also a commonplace misconception about cryptocurrencies being illegal. Crypto is not illegal in most countries. However, it's also mostly unregulated. So, whenever we talk about any new things being introduced in this sector, there's usually no regulatory framework to protect unwitting investors
Between 2014 and 2018, the only way for individuals to learn about the industry was to go through forums, write questions, and take people for their word. It wasn't easy to gather information. Since then, the industry has become more structured, with more people and groups increasing efforts to help new investors looking to get on board.
Crypto Space Steadily Growing
Beyond educating the common man, it's becoming increasingly important to educate regulators. There is a lot that they need to chew over in order to define which parts work and which don't. Regulators can't and shouldn't work in a vacuum doing armchair discussions about what's most suitable for the public.
Technological innovation has a huge role to play in enabling crypto literacy. Back in the early 2000s, it was all about shifting businesses online. This impacted all generations. Everyone was organically pushed to learn and embrace this change from offline to online connectivity. 
Rapid technological innovations in this new era of digital connectivity will allow us to take connectivity to the next level, including our finances.
Importance of Financial Literacy
With the thousands of cryptocurrency projects and respective coins or tokens in this space, it's more important than ever to do proper research before investing. According to Bybit and Toluna's Crypto Investment Literacy report, the methods for researching crypto investments aren't quite the same as other more traditional investments.
Per the results shared with BeInCrypto, out of the 10,500 unique respondents in 19 markets, 1,748 identified as 'crypto investors. The survey's main aim was to understand cryptocurrency literacy. More specifically, the methods and how much time the respondents took to research before investing in cryptocurrency.
At the crux of the results, the survey found that most Americans have blindly purchased cryptocurrencies with barely any research. This is evident in the plot below. It shows that 64% of North Americans spent less than two hours of research before investing in a crypto project.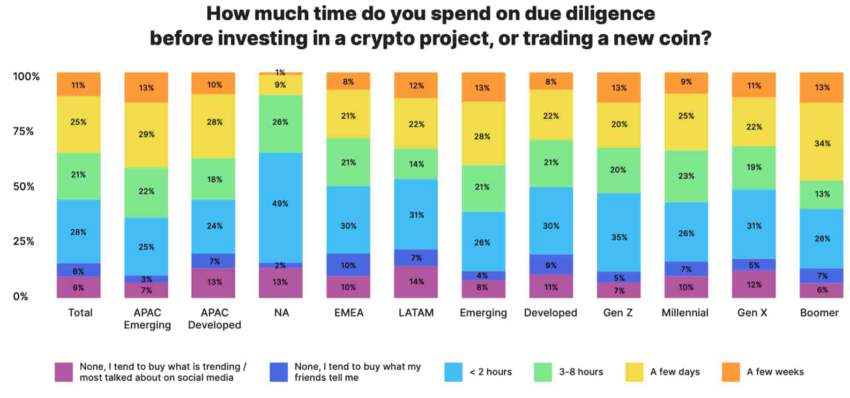 A significant chunk of investors said they chose projects based on reputational factors like the founder's credibility, names, and credibility of supporters. Others examined technical factors like purpose and consensus algorithms.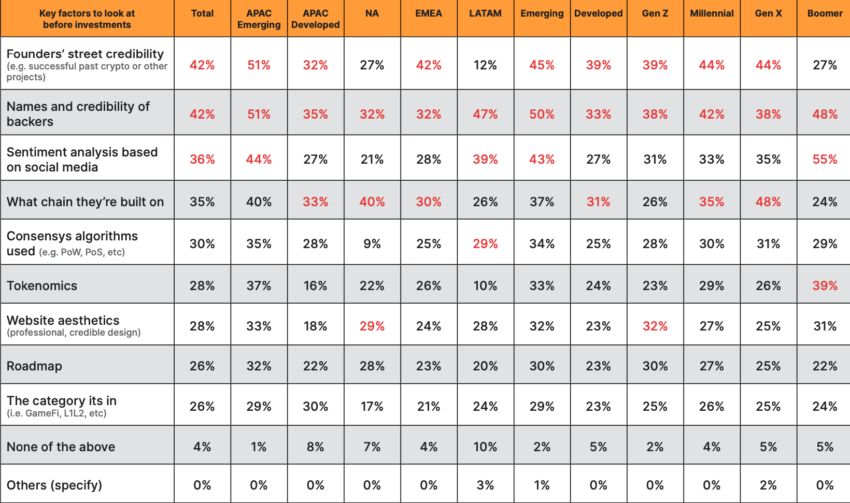 However, reputational factors can be manipulated and misleading. One such example of this was the billions of dollars that were invested in the FTX exchange and its respective FTT token. The collapse of the exchange created a wave of financial losses for investors across the globe. This shows the importance of DYOR or doing your own research.
Regarding age groups, 'boomers' took a more cautious approach before putting any money in the game, thus resembling risk-savvy investors. Boomers, on average, are 20% savvier than other generations because they place a greater emphasis on technical variables. 34% of boomers spend days researching a particular project.
Disclaimer
All the information contained on our website is published in good faith and for general information purposes only. Any action the reader takes upon the information found on our website is strictly at their own risk.