Shiba Inu's ($SHIB) bearish momentum shows no signs of slowing, with the token now trading around the $0.0000085 level.
The $SHIB price has dropped 46% from February's high, and unfortunately for bullish investors, many believe this decline is likely to persist.
However, it's not all bad news in the meme coin market, with presale phenomenon Wall Street Memes ($WSM) surpassing the $2.5 million milestone in its presale – all in less than one week.
Shiba Inu's Prolonged Downturn Sparks Investor Concern
As the week draws to a close, Shiba Inu investors continue to find themselves grappling with a downturn in the token's price.
The "Dogecoin killer" has seen price stuck in a consistent downtrend since April 16 and is likely to finish in the red for the sixth week out of the last seven.
$SHIB is now hovering around the same value that it was at the start of 2023 – meaning all gains made in the previous months have almost been wiped out.
Things don't look like getting better anytime soon, with Coinalyze data revealing that the $SHIB open interest is falling. This indicates a lack of investor enthusiasm around the coin – leading to muted price volatility.
Moreover, CoinGecko sentiment analysis reveals that only 64% of users are "feeling good" about Shiba Inu's price prospects, a far cry from the overwhelming bullishness seen throughout the first two months of the year.
The overall bearish trend in the crypto market is also weighing down $SHIB. Heavyweight cryptocurrencies like Bitcoin ($BTC) and Ethereum ($ETH) are also experiencing similar price falls – creating a domino effect that has impacted $SHIB.
The lack of roadmap progress is another contributing factor to $SHIB's downturn. Many in the investment community are now tired of the constant delays in releasing the "Shibarium" – Shiba Inu's Layer-2 scaling solution for the Ethereum blockchain.

Investors had hoped that this upgrade would spark an uptick in demand for $SHIB, given that it promised faster and cheaper transactions.
However, Shibarium has been the subject of numerous delays, with no concrete date for the mainnet's launch. As a result, the buzz around Shibarium has diminished in recent weeks, leading to stagnant price action.
Combining these elements presents a grim forecast for Shiba Inu's near-term trajectory, indicating its current downtrend may linger for some time.
Rising Star Wall Street Memes Raises $2.5 Million Through Presale – Next Big Meme Coin?
While the situation for Shiba Inu remains somewhat grim, fresh opportunities are still arising every week in the meme coin niche.
One project that has piqued investors' interest in this regard is Wall Street Memes ($WSM) – a brand-new entrant to the ever-evolving meme coin arena.
Just as Shiba Inu once took the market by storm, Wall Street Memes is now generating its own buzz, raising an impressive $2.5 million through its ongoing presale phase.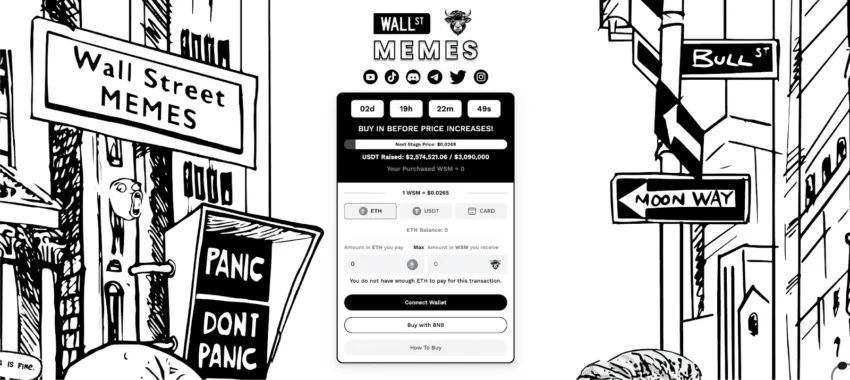 Given the bearish sentiment dominating most of the market, the arrival of $WSM has been a breath of fresh air for investors.
Currently, the project's 30-stage presale is in Stage 6, meaning buyers can obtain $WSM tokens for just $0.0265 – 27% lower than the final stage price.
This attractive setup has prompted immense buzz throughout the investment community, given Wall Street Memes' colossal community. The community comprises over 1.1 million people – with 523,000 following the project's Instagram account alone.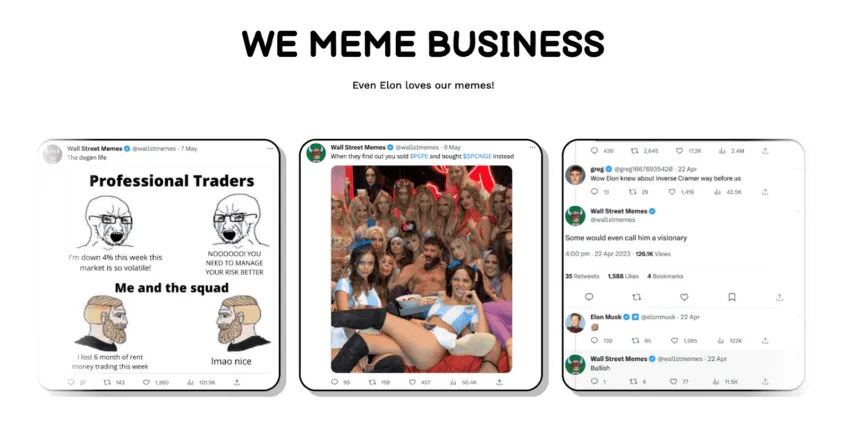 This is supplemented by another 221,000-strong audience on the Wall Street Memes Twitter account, inspired by the WallStreetBets Reddit community, remembered for their GameStop short squeeze back in 2021.
Wall Street Memes' team has also achieved remarkable success for themselves, having launched an Ethereum-based NFT collection called Wall St Bulls, which sold out in 32 minutes.
Now, the development team has turned its attention to $WSM, creating the token to empower the loyal and engaged Wall Street Memes community.
The contrast between Shiba Inu and Wall Street Memes in the world of meme coins shows how quickly things can change – with $WSM striving to differentiate itself from its peers.
Visit Wall Street Memes Presale
AiDoge Another Meme Coin with Big Expectations
Another meme coin making waves is AiDoge, which recently concluded its presale having raised an astonishing $15m. The token is now set to list on leading CEXs on 19th June.
AiDoge is developing a meme generation platform powered by AI tech, that will allow users to create topical memes using text prompts. The native $AI token will be used to access the platform's features and can also be staked for daily rewards.
Having attracted such huge investor attention in its presale, AiDoge is certainly one to watch. Traders have one last chance to buy the coin at listing price before it has its IEO later this month.
Disclaimer
This article is sponsored content and does not represent the views or opinions of BeInCrypto. While we adhere to the Trust Project guidelines for unbiased and transparent reporting, this content is created by a third party and is intended for promotional purposes. Readers are advised to verify information independently and consult with a professional before making decisions based on this sponsored content.