Pepe coin has pumped over 15% in the last 24 hours, while Pepe-inspired Keke also pumped 19% to a $1.2 million market cap. 
Meanwhile, a newer Pepe alternative, Evil Pepe Coin, has caused much excitement as its presale passes $1 million. 
Pepe Whales Kickstart Latest Meme Coin Pump With $2 Million Purchase
Two 'whales' have sent Pepe's price soaring following a combined purchase of 1.56 trillion Pepe, equating to 1,100 ETH or $2.06 million, according to analytics from the Twitter account LookOnChain.
News of the purchases created a frenzy among meme coin investors, pushing Pepe to the top of CoinMarketCap's gainer's list from the top 100 cryptos.
The purchase was made by two wallets, one with the domain "yougetnothing.eth," which used 600 ETH ($1.12M) to buy 874 billion PEPE at $0.000001286.
Following this, a second wallet, identified as 0x4631, spent 500 $ETH ($936K) to purchase 685 billion PEPE at $0.000001366.
According to Etherscan, the yougetnothing.eth ENS currently holds a staggering $1,339,443.02 (713.3462 ETH) worth of PEPE, equating to 0.2232% of the total supply.
The purchases generated a flurry of interest, with LookOnChain's tweet receiving 65K views and numerous influencers and media outlets covering the purchase since. 
Looking at the Pepe price chart below, Pepe has found support at $0.0000012917 and has begun ascending towards its 21-day EMA.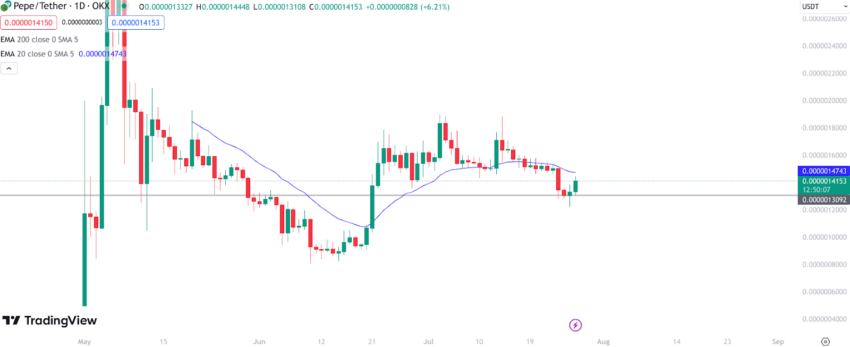 Its 24-hour trading volume is $1.46 million, up 66%, according to CoinMarketCap.
However, the buzz did not end with just Pepe. Other meme coins tied to Pepe also pumped, with one of those being Keke.
Currently, Keke sits at the number two spot on the CoinMarketCap top trending list, only behind the newly launched Worldcoin, which boasts a $24 billion FDV.
Keke's is priced at $0.00000001654, up 19.94% in the last 24 hours. Its market cap sits at $1.29 million. However, its 24-hour trading volume is a whopping $12.94 million.
The project uses Pepe the Frog as its logo. Consequently, its recent hype was expected as traders seek higher-upside alternatives to Pepe when it begins performing well.
Could Evil Pepe Coin be the Next Pepe Alternative to Explode?
While the likes of Keke and Pepe 2.0 have already taken off, another Pepe alternative, Evil Pepe Coin, looks set to brew up a storm as it launches on exchanges next week. 
Until then, Evil Pepe Coin is available at presale, priced at $0.000333. Despite launching less than ten days ago, the Evil Pepe Coin presale has already raised a whopping $1 million.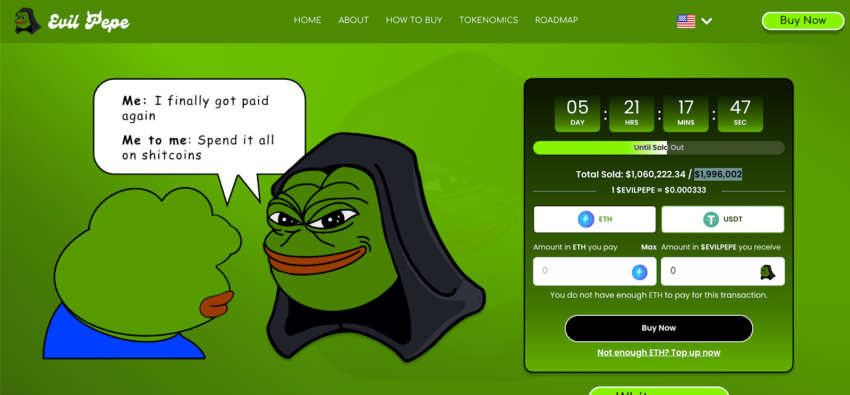 Evil Pepe Coin is Pepe's evil alter-ego, urging its community to embrace its 'evil' side and listen to the inner voice telling them to ape into meme coins. According to its website, that inner voice leads degens to "succeed in the meme coin game".
After all, where would whales like yougetnothing.eth be without listening to their inner Evil Pepe voice now and then?
Esteemed crypto analyst and YouTuber Michael Wrubel covered Evil Pepe Coin recently gave his own price prediction for the coin.
90% of Evil Pepe Coin tokens will be available in the presale, with the remaining 10% earmarked for locked DEX liquidity. As such, the project will have a maximum market cap at launch of just $1,996,002. 
Considering Pepe's colossal market cap of over $500 million, Evil Pepe Coin could present significant upside potential.
Disclaimer
This article is sponsored content and does not represent the views or opinions of BeInCrypto. While we adhere to the Trust Project guidelines for unbiased and transparent reporting, this content is created by a third party and is intended for promotional purposes. Readers are advised to verify information independently and consult with a professional before making decisions based on this sponsored content.