The meme coin market is constantly changing, with Wall Street Memes ($WSM) the latest in a long line of tokens to generate tremendous hype.
Wall Street Memes' ongoing presale has now raised nearly $19 million in funding, stirring up significant buzz on social media platforms like Twitter and Telegram.
With such a solid start to its life cycle, many are already predicting that $WSM could be the next big meme coin star this year.
$WSM Presale Nears Final Stage with Major CEX Listings Planned
Wall Street Memes' presale is now in Stage 26 out of 30, meaning that it's nearing its completion as $WSM prepares to launch on major exchanges.
Early-bird investors can purchase $WSM for $0.0325, a price anticipated to be lower than the eventual CEX listing price.
The low purchase price, combined with Wall Street Memes' massive following on social media, has ensured these final presale stages are an attractive opportunity for investors looking to get in early before $WSM makes its open market debut.
Wall Street Memes' presale success hasn't gone unnoticed in the crypto influencer scene, with an array of high-profile names touting $WSM's potential.
Satoshi Stacker, a prominent YouTuber with an audience of over 280,000 people, recently uploaded a video breakdown of $WSM, hinting that it could potentially compete with the likes of PEPE and Shiba Inu.
Additionally, YouTube analyst Michael Wrubel released a video to his 310,000 subscribers highlighting his views of this new meme coin.
CryptoWendy0 has even created content on Wall Street Memes, discussing how $WSM has caused a stir amongst meme coin degens.
Wall Street Memes Catches Elon Musk's Attention Driving  Engagement Sky-High
These endorsements from leading names in the crypto scene have significantly bolstered the hype and credibility surrounding Wall Street Memes in recent weeks.
However, the hype is also being fuelled by Wall Street Memes' gigantic community of "degens," which comprises over 1.1 million people worldwide.
The Wall Street Memes brand boasts 255.7k followers on Twitter, while the official Instagram page has an audience of 535,000.
Wall Street Memes has even enjoyed engagement with none other than Elon Musk, a figure who is often considered the poster boy of the meme coin space.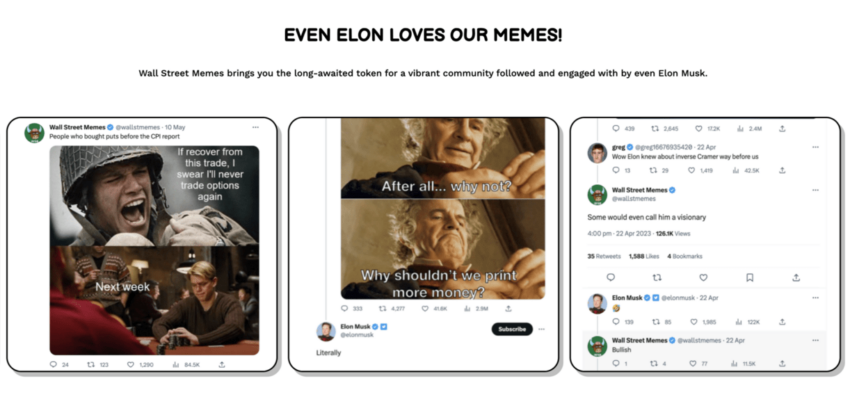 The billionaire tech tycoon has interacted with several of Wall Street Memes' tweets in the past few months, which has helped drive the project's visibility and boosted its credibility.
Adding to the project's credibility is that the development team has laid out a clear roadmap for the future.
This roadmap sketches out the plans for collaborations with influencers, listings on Tier-1 CEXs, an exclusive members-only community, and even sets a lofty goal of a $1 billion market cap for $WSM.
Naturally, this level of forward planning demonstrates the development team's commitment to the project's long-term success – helping drive demand for $WSM.
$WSM Tokenomics Sets Strong Foundation for Potential Long-Term Growth
The team behind Wall Street Memes' has also strategically designed $WSM's tokenomics to provide a solid foundation post-presale.
The team has allocated 20% of the total $WSM supply for DEX and CEX liquidity, this will help facilitate smooth transactions with minimal price slippage.
Moreover, 30% of the token supply has been earmarked for community rewards, such as airdrops.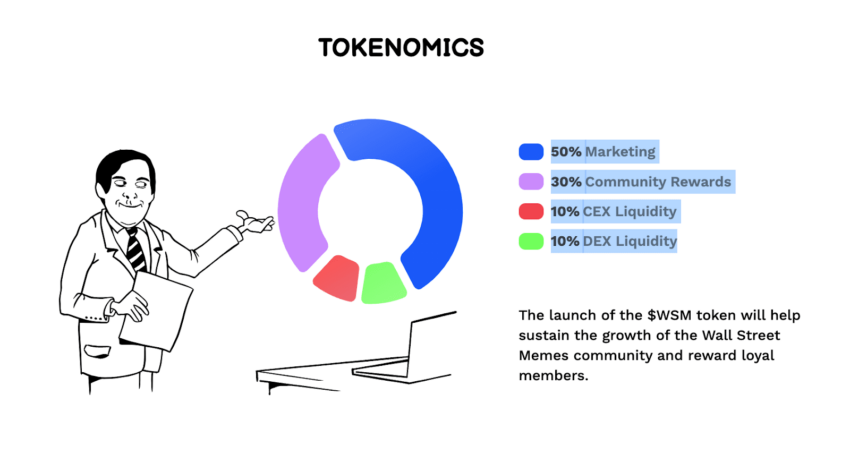 These rewards help boost user engagement and allow community members to earn additional $WSM tokens.
Many early adopters believe holding $WSM could provide scope for long-term financial gain since the token gives holders direct exposure to the growth of the Wall Street Memes community.
Given these factors, Wall Street Memes has undoubtedly positioned itself as a meme coin with strong community support with over 1M followers on social media.
Visit Wall Street Memes Presale
Disclaimer
This article is sponsored content and does not represent the views or opinions of BeInCrypto. While we adhere to the Trust Project guidelines for unbiased and transparent reporting, this content is created by a third party and is intended for promotional purposes. Readers are advised to verify information independently and consult with a professional before making decisions based on this sponsored content.