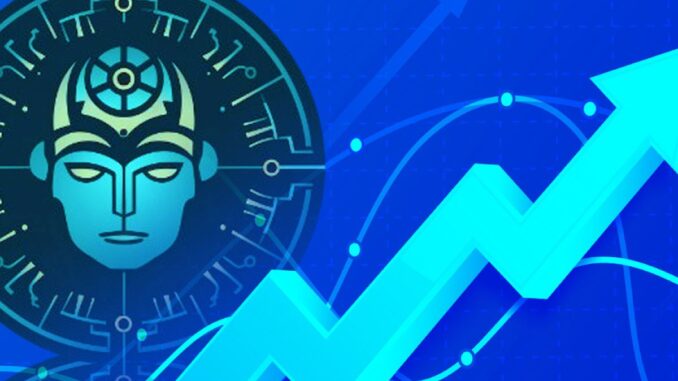 The AI space has drawn more attention recently, and it was only a matter of time before the crypto space amalgamates with AI to create groundbreaking innovations.
Bad Idea AI ($BAD) has been in the spotlight, with Borroe ($ROE) and InQubeta ($QUBE) also making giant strides 
Bad Idea AI Trending
Bad Ideas AI (BAD) is one token reported to have benefited from the expected launch of Shiba Inu's Ethereum Layer 2 solution on the mainnet. Observers believe that the token's close association with the Shiba Inu ecosystem has fueled its growth.
BAD has been on a rampage, and its emphatic surge has sparked intrigue in the crypto space, exciting investors and fueling more interest in the crypto ecosystem. As Shiba Inu's partner and an AI-based project, BAD is expected to bridge the gap between Shiba Inu's memecoin, SHIB, and the widening AI ecosystem.
Bad Idea AI is still in its infancy, yet it looks like it is on steroids, having seen a 500% increase in a month. 
Aside from its speedy increase, it has also landed its first listing on one of the prominent players in the crypto exchange space, Bitget. Placed in the Innovation, meme, and AI zones of Bitget, the listing got traders ready to get on the BAD/USDT trading pair.
There are speculations that with Shibarium's maturation, decentralized applications (dApps) will prioritize BAD as their AI partner. While investors watch BAD keenly, $QUBE and $ROE also hold the gaze of investors and are breaking ground in their ongoing presale stages.
Watching out for $QUBE and $ROE
Like Bad Idea AI (BAD), InQubeta (QUBE), and Borroe ($ROE) are AI-related projects and are fairly new, but they have already grabbed the attention of investors, and their innovative solutions are the cause of this strong attraction.
InQubeta is poised to disrupt the AI space in the fundraising sector. It solves the challenges AI startups face in terms of funding by using the decentralization and transparency that blockchain is known for. These visions, backed by the $QUBE-powered innovative NFT marketplace, make it an attraction for investors.
The marketplace will enable qualified AI startups to mint investment opportunities and list them as fractionalized bits. This way, different classes of investors can support the AI startup of their choice, irrespective of their income class. $QUBE will be at the center of the InQubeta ecosystem and is currently in the third stage of its presale. $ROE is also on presale but in its first stage.
Borroe Finance also tackles the funding challenge; however, it focuses on Web3 creators. Web3 is still evolving, and its emergence is a cause for uncertainty among traditional financiers. Borroe comes with an instant funding model that is a game-changer. It uses its AI-powered marketplace to help Web3 creators access instant funding from future recurrent revenues like subscriptions and the like.
In the Borroe ecosystem, Web3 businesses can also generate cash flow by minting NFT representations of the future and outstanding invoices, which can be sold at a discount in the marketplace.
Acknowledging the need for investment security and transparency, Borroe and InQubeta have demonstrated a commitment to earning the trust of their investors. 
Borroe, having undergone an audit of its smart contract, has received a certificate of compliance from the renowned BlockAudit. InQubeta is undergoing a KYC audit, also by BlockAudit, and a token audit by Hacken. This move and the innovative solutions the tokens support have made $ROE and QUBE two more AI cryptos to watch.
$ROE is currently at a price 25% higher than its Beta phase sale, which sold out in just five days. Having sold almost 40 million tokens in the first stage of the ongoing presale, the second stage is not far behind.
On the other hand, QUBE is in its third stage of presale, selling at $0.0112, and has raised over $2.2 million. So far, over 274 million tokens have been sold. The price is to rise to $0.0133 at the next presale stage.
Disclaimer
This article is sponsored content and does not represent the views or opinions of BeInCrypto. While we adhere to the Trust Project guidelines for unbiased and transparent reporting, this content is created by a third party and is intended for promotional purposes. Readers are advised to verify information independently and consult with a professional before making decisions based on this sponsored content.