In a poignant moment for the Internet community, Balltze, the beloved Shiba Inu behind the 'Cheems' meme, has passed away. At the age of 12, after a courageous battle with cancer, the iconic canine left an indelible mark on digital culture.
Balltze's owner shared the heartbreaking news on Instagram.
Balltze the Beloved Meme Dog
Throughout his life, Balltze's endearing expressions and the "Cheems" meme captured the hearts of countless internet users. Recognizable by his infectious, knowing grin, the meme—sometimes referred to by his affectionate nickname, "Ball Ball"—became a staple of internet culture.
While his death on Aug. 18 saddened many, memories of Balltze will forever linger online. As his owner poignantly noted, Balltze, the "Shiba Inu with a round smiling face," brought joy to numerous individuals during challenging times, particularly amid the pandemic.
His impact was profound, and he became the face of countless memes. His likeness also graced merchandise such as enamel pins, sweatshirts, and tote bags. Furthermore, in a testament to his digital legacy, a cryptocurrency token was created in his honor.
Though Balltze's passing marked the end of an era, his legacy will assist others. Funds raised for his medical expenses will be channeled to local animal charities, ensuring that his memory will continue to make a difference.
Dogecoin — The Top Memecoin
This loss comes at a challenging time for the cryptocurrency named after the meme icon. The Dogecoin market has been navigating tumultuous waters.
Dogecoin's value has dropped 15.5% since the beginning of last week. The price has now dipped below the significant golden ratio support level. Currently, most Dogecoin addresses are witnessing losses, with 56.6% of the addresses being in a deficit at the current market price.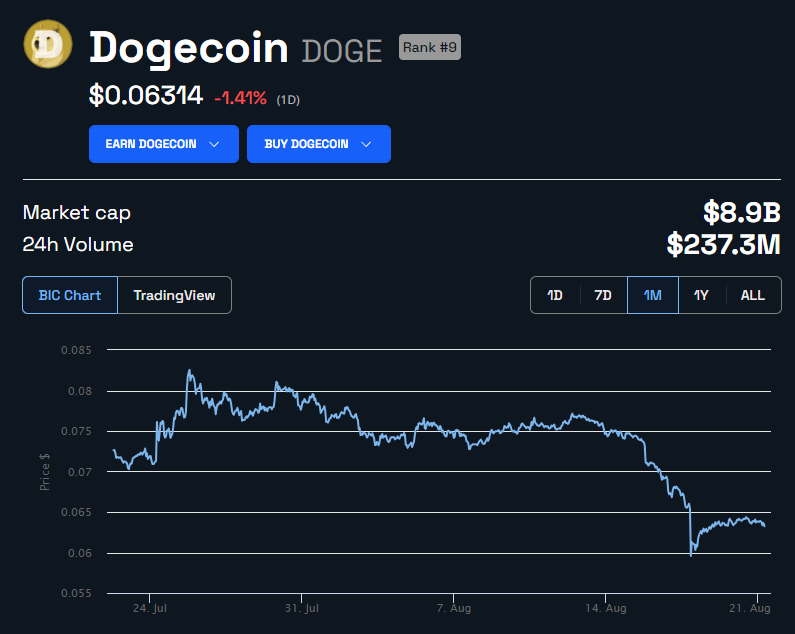 However, not all indicators are bleak for Dogecoin. Signs of resilience and potential recovery are on the horizon. For instance, Dogecoin has shown indications of bouncing back from the $0.0615 horizontal support. This hints at a potential upward trajectory in the short term.
Despite DOGE facing challenges, its community remains strong. Dogecoin addresses have grown steadily over the past 30 days, with an average of 4.81 million addresses holding DOGE. The number of active addresses in the Dogecoin network has been up and down in the past month. The figure currently sits near a monthly low of 42,000.

Balltze's passing and Dogecoin's current market challenges serve as reminders of the transitory nature of life and markets. Yet, the cherished canine and cryptocurrency named after him have demonstrated resilience. The hope is that just as Balltze's memory will live on in the annals of the internet, Dogecoin will navigate its current challenges, emerging stronger and more resilient than before.
Disclaimer
In adherence to the Trust Project guidelines, BeInCrypto is committed to unbiased, transparent reporting. This news article aims to provide accurate, timely information. However, readers are advised to verify facts independently and consult with a professional before making any decisions based on this content.
This article was initially compiled by an advanced AI, engineered to extract, analyze, and organize information from a broad array of sources. It operates devoid of personal beliefs, emotions, or biases, providing data-centric content. To ensure its relevance, accuracy, and adherence to BeInCrypto's editorial standards, a human editor meticulously reviewed, edited, and approved the article for publication.