The Shiba Inu (SHIB) token has been on a bear trend following the unsuccessful Shibarium launch.
SHIB's value has dropped by 22.3% over the last seven days almost erasing all the last month's gains.
The increased burn rate has caused an increased curiosity within the ecosystem.
Shiba Inu (SHIB) has experienced a startling 800% rise in burn rate, resulting in the massive removal of almost two billion SHIB tokens from circulation. The cryptocurrency ecosystem is ablaze with rumours and curiosity following this abrupt increase in the burn rate.
In the last 7 days, there have been a total of 1,840,593,165 $SHIB tokens burned and 255 transactions. #shib pic.twitter.com/6r179JulIu

— Shibburn (@shibburn) August 20, 2023
This increased burn rate may be caused by a number of circumstances. One of the main causes could be community-led efforts to decrease the amount of SHIB in circulation, which would increase scarcity and thus increase the token's value. The price of SHIB has dropped by 22.3% over the last seven days, dropping from $0.00001027 to $0.000007976 in just seven days.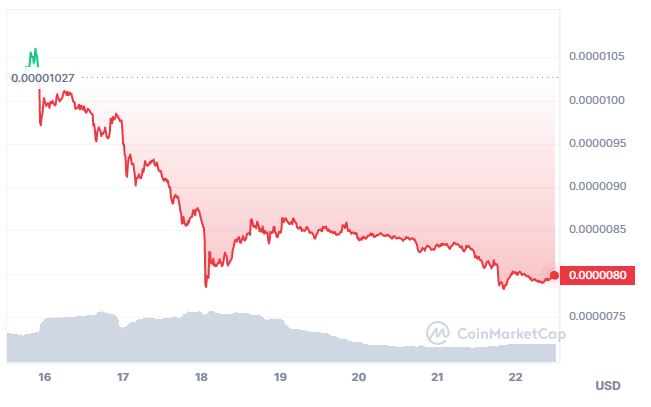 Restoring confidence in Shiba Inu
The Shiba Inu community may have been motivated to take proactive actions to rebuild faith in the token as a result of the recent disastrous launch of Shibarium, in which more than 1,000 ETH became stranded in the project's ETH Bridge.
However, it is important to remember that while burning tokens can make them scarce, it does not always result in a price increase. Shiba Inu, which was at press time trading for around $0.000007976, has recently endured quite some difficulties and has demonstrated tenacity on the market.
The obvious decline in whale activity on the SHIB network is one of these difficulties. From a peak of 120 large transactions, there are now just 20 large transactions. This decrease in whale activity has potential drawbacks.
On the one hand, it can suggest significant holders lack confidence, which might result in price instability. However, it might also lead to a more decentralized distribution of SHIB tokens, minimizing the price impact of significant sell-offs.
The burn rate and its potential effects on the price of SHIB must be considered in light of other market factors. Although the Shibarium launch failure and the ETH bridge problem that followed were setbacks, the community's proactive approach to burning tokens shows how committed it is to the success of the meme coin.