Data shows the Ethereum total transaction fee has declined to 6-month lows recently, indicating that investors aren't engaging much with the coin.
Ethereum Daily Total Transaction Fee Has Declined Recently
According to data from the market intelligence platform IntoTheBlock, the transfer fees on the ETH blockchain have dropped to just 1,720 tokens recently. The indicator of interest here is the "total fees," which measure the daily total amount of transaction fees that the users on the network are attaching with their transfers.
Generally, this metric observes a boost whenever the chain observes high activity. This is because the network only has a limited capacity to handle transactions, so higher than usual traffic means more competition among the users to process their transfers.
Senders who want to get their moves through as soon as possible attach a higher-than-average fee to prioritize their transactions. Others may follow suit and do the same, pushing the average even higher.
Because of this relationship between the network activity and the transaction fees, the total fees metric can provide hints about the users' interaction on the chain.
Now, here is a chart that shows the trend in the Ethereum total fees over the past six months:
The value of the metric has been going down in recent days | Source: IntoTheBlock on X
The above graph shows that the Ethereum total fees haven't been particularly high throughout the last six months. Still, recently, the metric has dropped even further as its value is now the lowest in this period.
Currently, the ETH blockchain observes daily total transaction fees of about 1,720 ETH. This low fee would imply that the network hasn't watched much activity recently.
This continued lack of activity can signify general disinterest in the cryptocurrency among investors. However, Ethereum isn't alone in this, as Bitcoin's total fees have also taken a sizeable hit recently, as IntoTheBlock revealed a couple of days ago.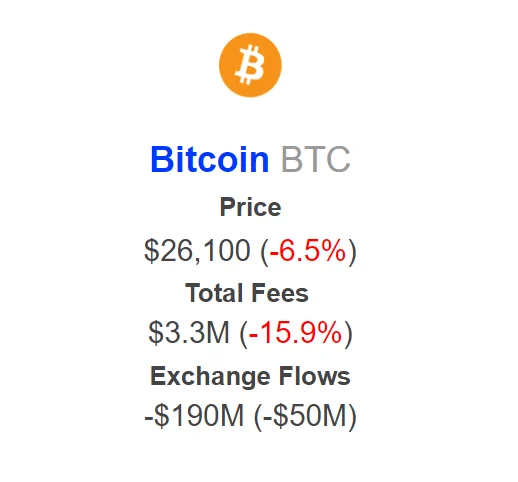 Looks like the value of the metric has also plunged down for BTC | Source: IntoTheBlock on X
According to the data, the Bitcoin total fees have observed a drawdown of almost 16%, suggesting that activity on the blockchain has also dropped recently.
These low values across the top two cryptocurrencies could be a worrying sign for the sector as a whole, as the recent crash couldn't ignite fresh trading interest in the coins, even though volatile events such as this one have historically led to uplifts in activity.
The stale price action that both Ethereum and Bitcoin have been experiencing since the crash could reflect this lack of interest in the market.
ETH Price
As the chart below shows, Ethereum has remained flat since the crash, as its price currently trades around the $1,600 mark. As long as interest remains low in the asset, the chances of some volatility emerging may also continue to be low.
ETH has stagnated recently | Source: ETHUSD on TradingView
Featured image from Kanchanara on Unsplash.com, charts from TradingView.com, IntoTheBlock.com