The price of Akropolis (AKRO) cryptocurrency has risen by 441% over the past year.
In the past 24 hours, the coin has surged by 30% to trade at $0.0192.
Akropolis is one of the best-performing cryptocurrencies in 2023.
The native token of Akropolis, a decentralized finance (DeFi) protocol focusing on under-collateralized loans, has been on steroids since the beginning of the year. Akropolis (AKRO) price has risen by 441% since the beginning of the year, marking a splendid growth of the DeFi token.
While those who invested in AKRO early are enjoying their profits, new investors are hesitant since the cryptocurrency could be heading into the overbought region after such a magnificent price surge. However, that can be only determined by understanding what is causing the token to rise.
Here is why the Akropolis (AKRO) price is rising
The main reason why the Akropolis (AKRO) price is going up is the increased activity on Akropolis, especially after the recent update.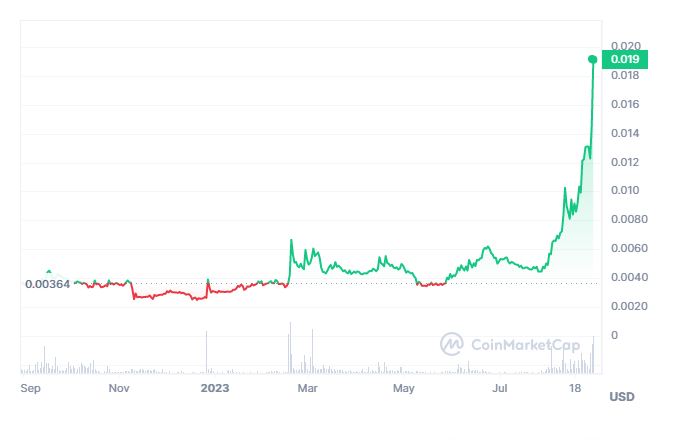 The Akropolis Protocol is a collection of Ethereum-based DeFi aggregation and automation initiatives. Akropolis seeks to offer DeFi equivalents of essential financial services like access to credit with lenient terms and insurable savings (variable and fixed rate savings deposits). The platform is integrated with Yearn, MCDEX, Liquity, Maker, Fulcrum, Aave, Compound, Curve, and dYdX.
The Akropolis Protocol team concentrates on and creates a user-friendly portfolio of portable, borderless, trust-minimized DeFi products for financial operations and decision-making. The Sparta product, which focuses on undercollateralized loans, and Delphi, which focuses on automated passive mixed investing/income products, are constructed on top of the AkropolisOS, which is the main building block.
The Delphi beta was carefully placed on the Ethereum mainnet on August 12, 2020, and a bug bounty was run before a full launch on August 24, 2020. With the Akropolis Delphi Token (ADEL) token, the Akropolis Protocol further introduced Sparta v2, the DeFi yield re-balancing module, the crypto/fiat on-off ramp, support for new stablecoins, UI/EX upgrades, and the liquidity mining incentives feature.
Users can now pay in currencies other than ETH through integrations with OpenGSN. The protocol also has insurance protection from Nexus Mutual/Opyn to guard against hacking and programming flaws.
In August 2023, Akropolis made several updates among them the POC-Polkadai bridge, a Parity Substrate Blockchain bridge for self-transfers of DAI Token (ERC20) to sDAI (ERC20 representation).