In the world of cryptocurrency, there's a common desire shared by many: a full-blown altcoin season. Altseason refers to a brief period during which altcoins outperform Bitcoin.
Since the peak of 2021, most altcoins have bled against Bitcoin and reached new lows. So, in this article, we will discuss the factors related to altcoins to understand whether we have witnessed a genuine capitulation or if another significant crash is looming.
Altseason index plummets to multi-year lows: What's next for altcoins?
The Altseason index indicates whether we are in a Bitcoin season or an Altseason. Currently, this index stands at ten on a yearly timeframe, suggesting that we are presently in a Bitcoin season, with BTC outperforming the majority of altcoins. The last time this index was this low was during the C-19 crash in 2020. In the months following that crash, the crypto market entered an Altseasonfueled by DeFi.
Historically, it bottomed out when $BTC's price hit its lowest point. However, this time, due to the SEC clampdown on altcoins and severe selling by Robinhood, several altcoins reached new lows despite BTC's bullish price action in 2023. If history is any indication, most altcoins have likely found their bottom, and in the coming months, we may witness an increase in this index.
Investor's dilemma: Decoding crypto market cheat cycle
During the FTX collapse, Bitcoin and several other cryptocurrencies hit new lows, prompting traditional media to discuss the demise of the crypto market. FTX was the second-largest crypto exchange at the time, and its collapse marked a capitulation event for the majority of the crypto market. Following the collapse, the crypto market began to recover, much like it did after a genuine capitulation. However, something unthinkable occurred.
The SEC started labeling top altcoins as securities, leading many of them to reach new lows. Shortly after this, reports emerged that Robinhood had started selling these altcoins identified as securities by the SEC, causing the market to crash further, resembling a true capitulation. Following the XRP victory, all of these altcoins experienced substantial price increases, but they have still not reached new lows. This suggests that the SEC news marked the real capitulation event, and most of the altcoins have discovered their true bottom.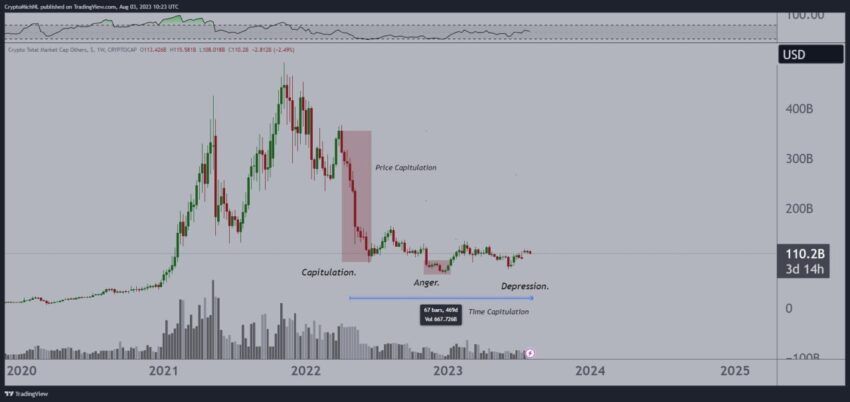 BTC dominance soars, yet altcoin opportunities persist
After reaching its peak in June 2023, BTC dominance has been steadily declining, which is a positive development for the altcoin market. The decrease in BTC dominance suggests that new funds flowing into altcoins are experiencing more minor losses than Bitcoin. Despite the news related to Grayscale, BTC dominance has not shown any significant increase.
This trend is likely to persist, given the upcoming distribution of BTC from Mt. Gox and BTC sales by the US government, both of which will make it challenging for BTC dominance to rise. The one factor that could potentially boost BTC dominance is FTX's plan to sell its assets, as announced a few weeks ago. FTX holds a substantial amount of SOL, ETH, and other top altcoins. Considering that the overall crypto market volume is at multi-year lows, such a sell-off could inflict significant damage on the altcoin space.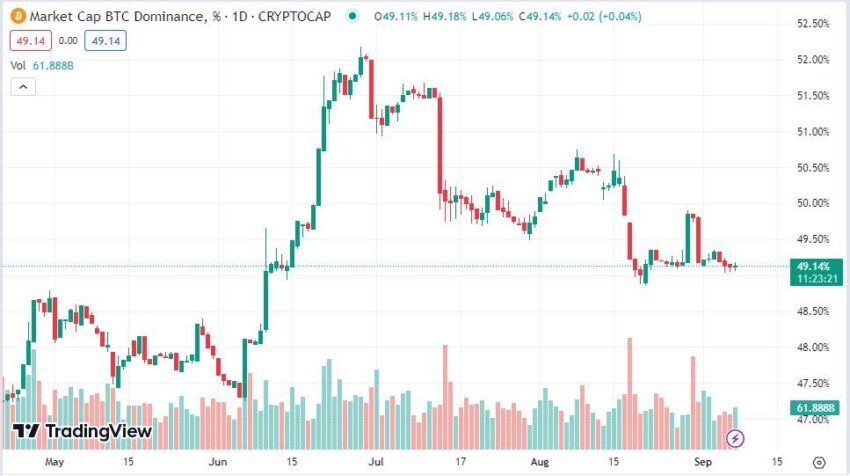 Navigating altcoin capitulation: Timing, strategy, and risk awareness
Numerous factors indicate altcoin capitulation, and it's likely that we've already witnessed the depression phase. This doesn't necessarily imply that altcoins will begin to surge tomorrow or next month, but it does suggest that many altcoins have reached a price level where one might consider dollar-cost averaging (DCA) if they plan to hold for the long term.
Keep in mind that there are still many unknowns, such as an upcoming recession or any other unforeseen black swan event that a chart cannot predict, so always incorporate these factors into your plan.
Disclaimer
In compliance with the Trust Project guidelines, this opinion article presents the author's perspective and may not necessarily reflect the views of BeInCrypto. BeInCrypto remains committed to transparent reporting and upholding the highest standards of journalism. Readers are advised to verify information independently and consult with a professional before making decisions based on this content.