Polygon (MATIC) price has reclaimed the $0.53 territory after the team released the much-awaited POL token migration roadmap on Sept 14. Will MATIC price find sufficient demand to sustain the ongoing price rally or, once again, reverse below $0.50?
On Sept 14, the Polygon team announced plans to kickstart the migration from MATIC to a new POL token in Q4 2023. The news seems to have buoyed the confidence of existing MATIC holders and spot market traders. This has led to a 10% price bounce from $0.48 to $0.53 over the past week.
However, the uncertainty surrounding the token migration modalities has triggered some hesitation among Futures market traders and new market entrants.
Despite MATIC Price Recovery, Investors are Not Bringing Fresh Funds Into the Market
Derivatives market data shows that despite rebounding from $0.48 to $0.53, MATIC Open Interest has continued to decline over the past week. In the week, between Sept 11 to Sept 18, MATIC Open Interest dropped $114.08 million to $101.31 million.
This recent downtrend means nearly $13 million has been wiped off MATIC Futures markets despite the 10.04% price gain during that period.
Open interest represents the total number of outstanding contracts (long and short positions) in the derivatives market for an asset. Essentially, it measures changes in the number of participants in the market and the total amount of capital traded on those positions. Asdowntrend in Open interest is a bearish signal, indicating that investors are shifting capital away from MATIC derivatives.
When it declines during a price rally, it implies that investors who have previously held long positions may be taking profits as MATIC prices rise, leading to a reduction in open interest.
This reduced interest and participation in the MATIC market could also lead to decreased demand in the spot markets as well.
MATIC Is Struggling to Attract New Users Ahead of Token Migration
While news of the upcoming POL token migration has boosted the confidence of existing MATIC holders and spot market traders, new network entrants have been exercising caution. The number of new wallet addresses created on the Polygon network has declined significantly since the migration roadmap was announced.
As depicted in the Santiment chart below, Polygon recorded only 59,012 new addresses on Sept 17. This is a sharp 65% decline from the 168,200 addresses registered at last week's peak, on Sept 8.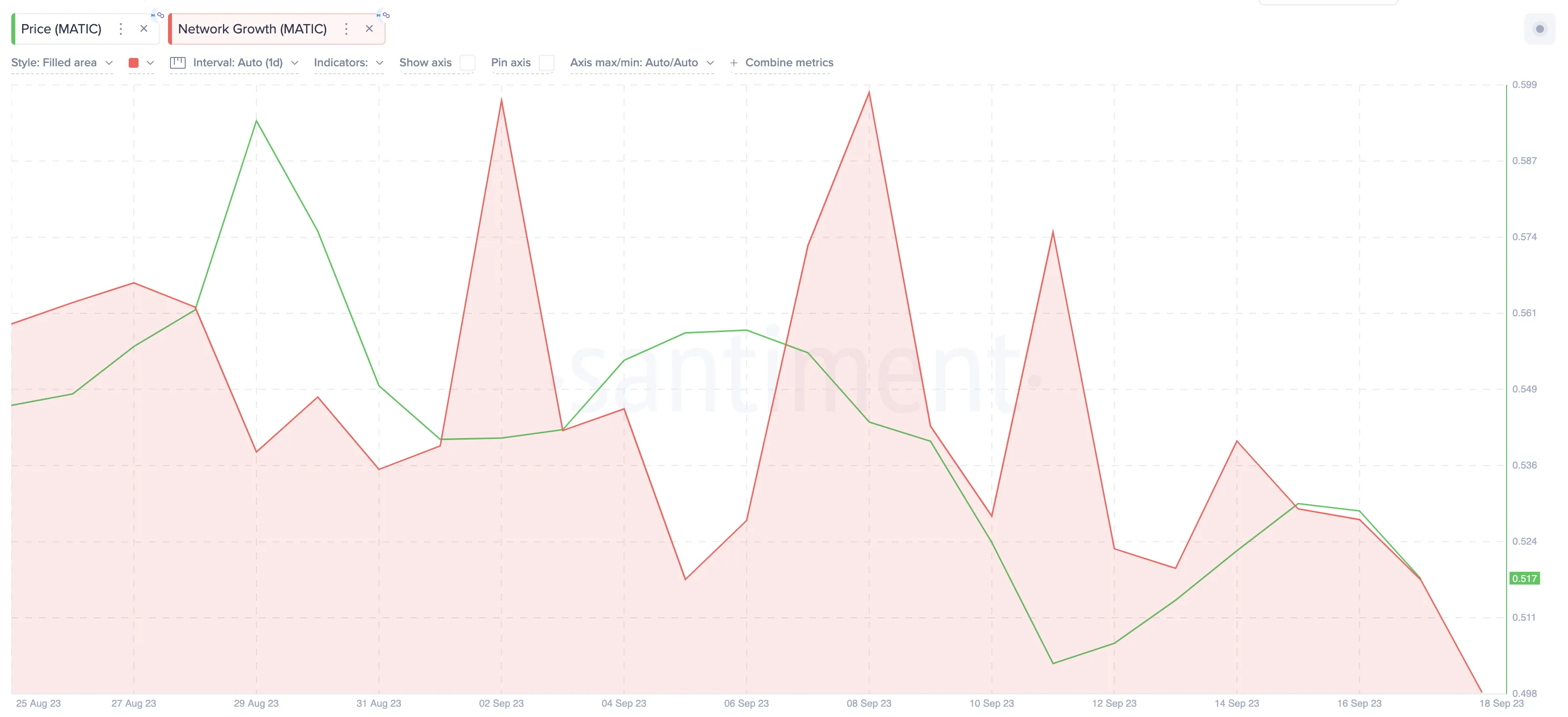 By tracking the number of wallet addresses created daily, Network Growth estimates the number of new users that join a blockchain network.
As seen above, the decline in user acquisition further accelerated around Sept 14, when the team announced the token migration roadmap. This suggests entrants are growing wary of purchasing MATIC tokens as the migration event draws near.
In conclusion, if the network growth decline persists, the Futures markets continue to shrink the MATIC token could struggle to sustain the current price uptrend.
MATIC Price Prediction: The $0.50 Support is Still at Risk
Based on insights from the data points analyzed above, MATIC's price will likely consolidate around $0.50 – $0.55 rather than enter a major breakout.
The In/Out of Money Around Price data illustrates the purchase price distribution of current investors on the Polygon network. It confirms that UNI price could react to the decline in user acquisition rate by dropping slightly toward $0.50.
However, as shown below, 2,500 addresses had bought 48 million MATIC at the minimum price of $0.52. They could offer considerable support if they HODL firmly.
But, if those efforts fail, the Polygon native token price could drop further toward $0.48.

But, conversely, If the Polygon team is able to provide clarity on the token migration, to get the new entrants and derivatives traders onboard, the bulls could push the price rally toward $0.70
However, the 4,260 addresses that had bought 91,850 million MATIC tokens at the maximum price of $0.56 will pose significant resistance. But if that resistance caves, then MATIC could reclaim $0.70
Disclaimer
In line with the Trust Project guidelines, this price analysis article is for informational purposes only and should not be considered financial or investment advice. BeInCrypto is committed to accurate, unbiased reporting, but market conditions are subject to change without notice. Always conduct your own research and consult with a professional before making any financial decisions.