Concordium CEO Lars Seyer Christensen and several crypto experts advise crypto investors to moderate what they expect from the next bull market. He says that this bull market will be different from cycles.
His comments came after Binance CEO Changpeng Zhao predicted the industry would enter a bull market after the Bitcoin halving. The halving, expected to occur around April 2024, reduces the number of Bitcoin (BTC) dispensed for each successfully mined transaction block.
Zhao believes the crypto market will be the most profitable for investors in 2025.
When Will Bitcoin Start to Grow?
But Larsen adopts a more cautious view. Speaking about how the approval of a spot Bitcoin exchange-traded fund (ETF) in the US could affect crypto markets, Larsen opines:
"Even if Bitcoin starts rising, don't expect absolutely all digital assets to increase. Does the bull market mean that Ethereum and many other altcoins will rise? I think it will almost certainly not happen."
The comments may appear unusually bearish, given the growth of digital assets during previous bull markets. Admittedly, some prices of some assets fell short of previous bull market highs, but the overall crypto market cap grew.
The next deadline for approving spot Bitcoin ETF applications is October 17-19. It is difficult to predict the chances of approval by the US Securities and Exchange Commission (SEC), which has come down hard on crypto companies, resorting to regulation by enforcement on many occasions.
At the end of last week, Binance lawyers asked courts to dismiss the SEC's lawsuit against the exchange at the beginning of June 2023. Attorneys argue the agency acted outside its jurisdiction.
Find out more about Binance alternatives here.
Consequently, Christensen expects the market to improve gradually rather than rapidly over the next 18 months. He argues that cryptocurrencies can appeal to large investors with years-long investment plans.
Some Experts Suggest Markets Have Already Turned Bullish
But not all crypto investors agree with Larsen. For example, Ben Simpson, founder of the education platform Collective Shift, argues that the market is already showing signs of turning bullish.
"Market decline from record levels and the ratio of market value to realized Bitcoin prices suggests we are in the final stage of accumulation, which often precedes a bull market."
Such an assessment may seem premature. Still, most industries expect a crypto bull run after the next Bitcoin halving, set to occur in the spring of 2024.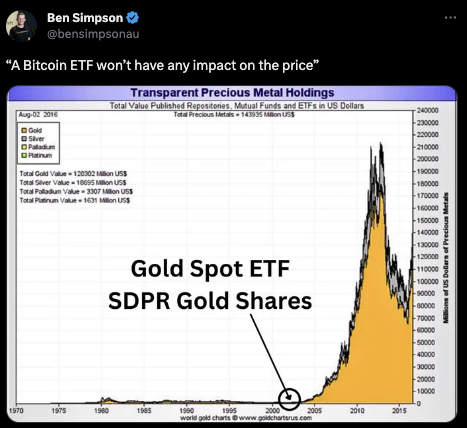 Simpson recommends investing in Bitcoin, Ethereum (ETH), and tokens with practical use cases. According to the expert, such coins will accrue the highest returns in the upcoming bull market.
"Tokens from decentralized finances are risky but hold significant growth potential. Bitcoin, in my opinion, emerges as a 'silent winner; among wider adoption and I am optimistic about it," he said.
What about interest rates?
Widespread consensus suggests that several important barriers and prejudices about the crypto industry must be broken. These misconceptions arose after the collapses of major platforms like FTX and Celsius in 2022 and the protracted decline in Bitcoin's price over the last two years.
Learn more about the collapse of FTX here.
Still, eToro analyst Josh Gilbert argues there are some optimistic signals. He points to the recent rate hike pause by the US Federal Reserve as a case in point.
"The macroeconomic situation is finally improving, and interest rate cuts are being seen on the horizon by central banks around the world. As rates begin to fall and inflation subsides, investors will start taking more risk by directing more capital to financial markets. Cryptocurrencies will also gain renewed interest."
Somewhat cautiously, Gilbert suggests that 2024 would be important for cryptocurrencies.
"2024 may be a strong period for Bitcoin and the entire cryptocurrency market."
It's Premature to Be Concerned About Growth
CMC Markets analyst Tina Teng said it was too early to worry about the potential for growth. But investors need to prepare for more uncertainty, irrespective of what happens in crypto markets.
"It is too early to say whether this is the start of a crypto bull market. It will all depend on the macroeconomic situation and whether central banks could stop raising rates to boost market liquidity."
Previously, US Federal Reserve Chief Jerome Powell argued the bank would increase rates to tame inflation. However, it will likely loosen its policies once prices have stabilized.
Experts Are Cautiously Optimistic on Bull Market
Most analysts are cautiously optimistic. Experts are quite predictably relying on a reduction in interest rates to improve the state of the global economy. 
Such improvements will attract investment in the crypto space and start the next bull market.
Got something to say about experts' opinions on how the next crypto bull market could unfold, how crypto investors should respond, or anything else? Write to us or join the discussion on our Telegram channel. You can also catch us on TikTok, Facebook, or X (Twitter).
Disclaimer
In adherence to the Trust Project guidelines, BeInCrypto is committed to unbiased, transparent reporting. This news article aims to provide accurate, timely information. However, readers are advised to verify facts independently and consult with a professional before making any decisions based on this content.